Join American Stage for a staged reading of 'Go Down Moses' as a part of the 21st Century New Play Festival.
Go Down Moses by Dana Leslie Goldstein
It's 1985.  On a liberal college campus, Ethics professor Philip Hoffman and Dean of Students Albert Becker already have a long history. They marched side by side for civil rights, registered voters together during freedom summer, and have maintained a friendship that crosses the boundaries of race, religion and country of birth.
But when a star student from the South Bronx – Angela Carter – crosses the administration and invites a controversial speaker to campus, free speech becomes a battle cry, the KKK makes an unexpected visit, and pacifists find themselves throwing punches.
Each character in GO DOWN, MOSES is changed by these events, as they realize how far there still is to go toward justice. And all are forced to reevaluate their own role in the struggle.  You can't really be an ally if you can't see each other – or yourself – clearly.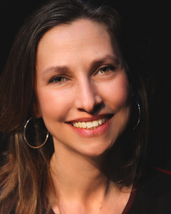 Playwright and Lyricist, Dana Leslie Goldstein has won the New England New Play Competition, Harold and Mimi Steinberg Playwriting Prize, Different Voices New Play Award, ACTF New Play Award, Henry Hoyns Poetry Fellowship, AWP Intro Award, an Academy of American Poets Prize and numerous development grants.  Her work has been seen at Manhattan Theatre Club, Cherry Lane, Culture Project, Julia Miles Theater (Women's Project), The York, Theatre80, Theater for the New City, New Dramatists, Center Stage, BMI, Vineyard Playhouse, Pulse, Theater Row Theatre, Gene Frankel Theatre, The Barrow Group, Acorn Theatre, The Lark, Beckett Theatre, Neighborhood Playhouse, The Workshop Theater, Torn Page, Nuyorican Poets Café, Estrogenius Festival, Brave New World Rep, Players Club of Swarthmore (PA), Ensemble Theatre of Chattanooga (TN), Clamour Theatre (FL), Pacific Theatre (Vancouver), TischAsia (Singapore), NYMF, on Ellis and Liberty Islands, at the U.N. and on Equity TYA tours.